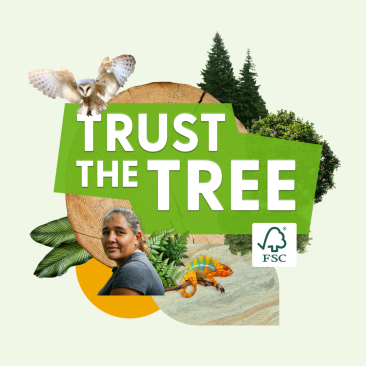 This year's theme, Trust the Tree, will share light on the key role forests play in fighting the climate and biodiversity crises. Forests sustain us, and sustainably sourced forest products can help ensure resilient, thriving forests for all, forever.
Renowned global brands and retailers will partner with FSC, posting daily content across leading social platforms for the seven days of the campaign.
Forest Week 2022 saw more than 1,200 partners from over 40 countries across FSC's powerful network actively participating in the campaign, reaching 42 million consumers worldwide.   
As consumers increasingly consider the impact of their shopping choices, and favour brands that provide sustainable options, Forest Week is the opportunity to turn consumerism into a force for good. Choosing FSC-certified products is a simple way to contribute to fighting the climate and biodiversity crises. 
"FSC Forest Week 2022 demonstrated the collective passion and commitment towards the world's forests," said Trevor Armel, Director of Marketing at FSC International. "We're very inspired to see so many engaged in making this year's effort bigger than ever, raising awareness about the irrefutable role forests play in the fight for a climate-resilient future."
Taking part is easy. Follow, engage with, and share #FSCForestWeek and #TrustTheTree posts across all channels. Alternatively, share FSC-certified products online and discover the FSC Forest Week GIPHYs to decorate them. Every post, every share, every FSC-certified product counts. 
When forests thrive, people prosper. Be part of the solution. Trust the Tree and Choose FSC.  
Learn more about the campaign at fsc.org/forestweek 
If your organisation hasn't registered for FSC Forest Week 2023 yet but is interested in participating, please sign up using the link below. FSC ANZ will personally contact you with campaign assets and provide guidance on how you can join in on the action.
You also may be interested in