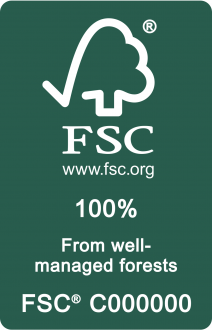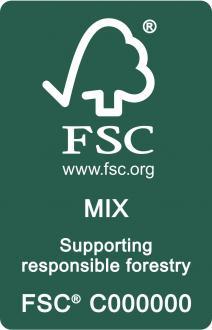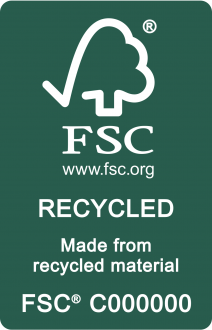 FSC 100%
All the materials used in products bearing this label are sourced from forests that have been audited by an independent third party to confirm they are managed according to FSC's rigorous social and environmental standards. Of all the FSC labels, FSC 100% contributes most directly to FSC's objective—forests for all, forever—and is therefore the highest mark of distinction for certified products.
 
FSC RECYCLED
Products that bear this label have been verified as being made from 100% recycled content (either post-consumer or pre-consumer reclaimed materials). The use of FSC Recycled products can help to alleviate the pressure of demand on sources of virgin material, thereby helping to protect the world's forests.
 
FSC MIX 
Products that bear this label are made using a mixture of materials from FSC-certified forests, recycled materials, and/or FSC controlled wood. While controlled wood is not from FSC certified forests, it mitigates the risk of the material originating from unacceptable sources.
What's in a Label?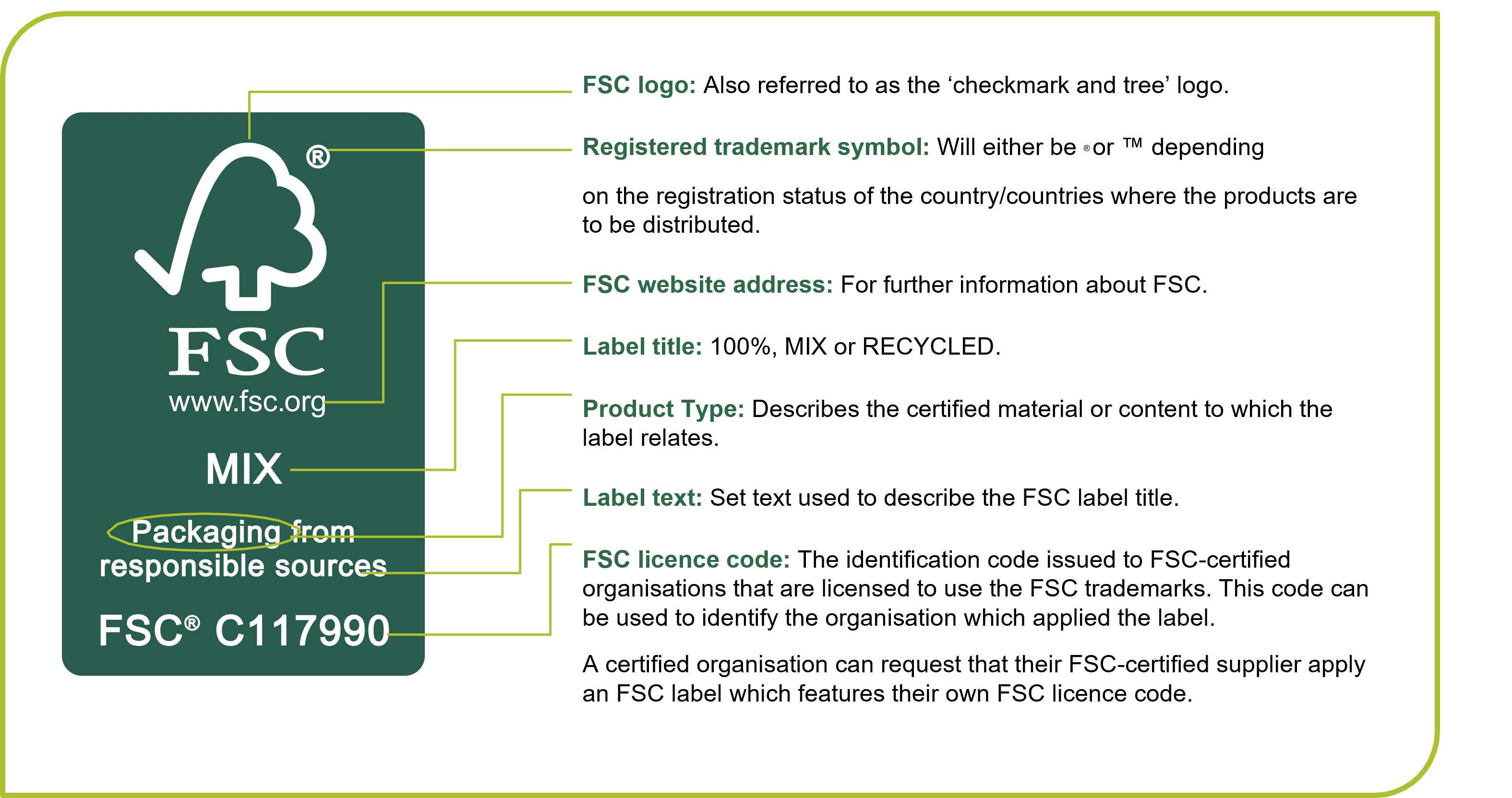 You also may be interested in
FAQs
Why are there three FSC labels?

The great thing about the FSC on-product labels is that once you know about them, you will see them everywhere.

But the sourcing of wood is complex, and we need to carefully track how products get from forest to store. 

The more you choose FSC-certified products, the more companies will want to meet that demand and will work to be become FSC-certified.

Whichever FSC label is on your product, you can be sure that you're purchasing a product that supports responsible forest management. So keep an eye out for the FSC label on your next trip to the supermarket, furniture store, or coffee shop.

We all make choices every day – and now, when you see any of the three FSC labels, you can make a choice that helps take care of the world's forests.

Why allow mixing?

Ideally, it would be unnecessary to mix wood from FSC-certified forests or reclaimed materials with wood from forests that aren't FSC certified but controlled. However, in many cases mixing is currently the only feasible way for companies to make FSC-certified products. 

Firstly, a lot of producers source their materials from areas where there are both

FSC

certified and non-certified forests, and although many of these companies are committed to sourcing

FSC

100%, the

FSC

-certified forests in their "wood baskets" aren't large enough to supply the raw materials to make

FSC

100% products. 
Secondly, mixing is needed because most sawmills as well as the pulp and paper sector operate in a way which does not allow the segregation of

FSC

certified and non-

FSC

certified material in the production. And as the exclusive sourcing of

FSC

-certified material is currently not possible due to above supply constraints, without mixing most of the industry would not be able to produce

FSC

-certified and labelled products at all.
 

FSC is working hard to achieve an increase in the area of FSC-certified forests and the share of FSC 100% or FSC Recycled products in the market. In the meantime, the option to mix is more or less unavoidable. 

Read more about the FSC control system here. 

Does mixing support responsible forestry?

Absolutely! Mixing allows more manufacturers to participate in the FSC system and offer FSC-certified products. In turn, increased supply and visibility allows for growth in demand. Finally, growing demand gives more forest owners and managers a reason to improve their management practices and move towards FSC certification. In the meantime, mixing allows available FSC supply to get to the market, when otherwise much of it wouldn't.

FSC controlled wood is a first step to improve forest management because it places restrictions on the procurement of non-FSC certified wood. FSC's controlled wood standard mitigates the risk of materials from unacceptable sources being included in FSC MIX products. This helps to address significant problems like illegal logging, human and traditional rights violations and deforestation.

Still not sure what the difference between Mix and 100% is?

Here's an analogy to illustrate the difference between FSC 100% and FSC MIX products.

FSC 100% is a bit like certified organic products. Certified organic fruits and vegetables are sourced from farms that undergo independent audits to ensure they don't use any chemicals in their production processes. This organic produce can be traced from the stores all the way back to the farms where they were grown. Similarly, all FSC 100% products come from certified forests.

FSC MIX, on the other hand, is more like some green power programs where you pay a little more to support renewable energy production. If you participate in this type of program, you don't expect that all of the electricity that powers your house will come from wind or solar—it's going to be a mix of energy from renewable and conventional sources—and you certainly don't expect to be able to trace your energy mix back to a particular solar panel. Yet, by participating in the program, you know you are supporting the growth of renewables as an equivalent amount of the energy you use has been purchased as green electricity by your energy supplier. In the same way, when you buy FSC MIX, even though the share of certified wood or fibre differs from one product to the next, you are supporting increased sourcing from and the growth of responsible forestry.

Does FSC certification mean that all products by the company selling the product are FSC-certified?

Any company that wants to add the FSC label to any of the products it makes must first receive chain of custody certification. This certification proves it is sourcing materials from FSC-certified forests, recycling and/or controlled sources and is following FSC-defined best practice throughout the production process and supply chain. But it does not mean that all products they produce are comprised of these materials.

Only products that use FSC-certified materials can carry the FSC on-product label. You still need to look for the FSC label on individual products to find out which are FSC-certified and which are not. 

How can certificate holders download the label?

The Trademark Portal allows certificate holders to download the FSC labels in over 60 languages.

Check out the video tutorial to see how to generate and download the FSC label.
You also may be interested in